By Editor Tarvin Webteam - 27th August 2013 6:30am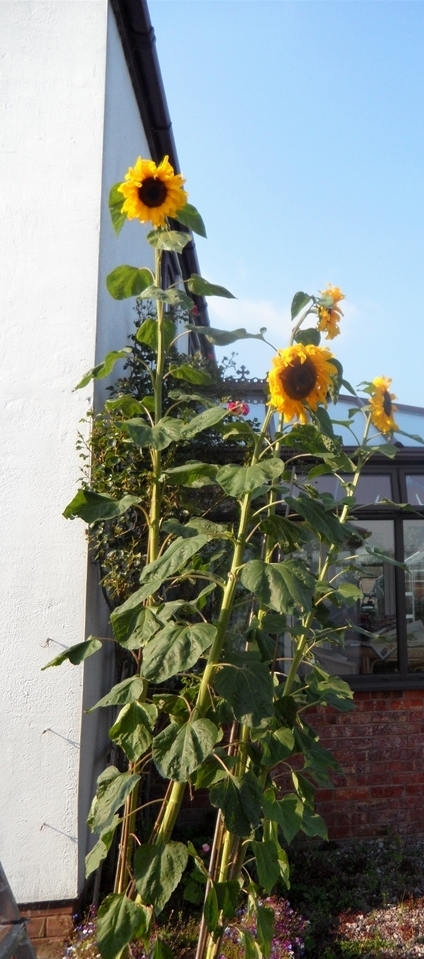 You are right its a sunflower!
Many weeks ago my grandchildren came home from school with a tiny pot containing several sickly looking sunflower plug plants. After allocating them to various family members I was instructed, as head gardener, to raise them all in the greenhouse and then plant them out. As they grew ownership transferred between the girls depending on the highest plant at the time. Both grandparents' plants eventually got blown over by the wind! By the time school closed for the summer the plants were still growing and could not be entered into the school competition.
However in my walks around Tarvin I have never come across any sunflowers to match the height of ours. That may be because a sunflower has the same effect on gardeners as marmite — you either love it or hate it. I must have liked the Jack and the Beanstalk story as a kid.
Out came the stepladder yesterday and the tallest was measured at 3.05m ( 10 feet in old money). Can any others lurking in a Tarvin garden better this?
Could this be near a record I thought ?- Google to the rescue as ever. Some joke as the official record holder ie Guiness Book of Records no less came in at 8m in 2009- trust the Germans!
I don't know about you but once I start looking something up on Google I can quickly become an apparent expert on any topic and become overloaded with useless facts.
The answers to some good quiz questions are:-
The sunflower is the national flower of the Ukraine
Its the symbol of the Vegan society
Sunflowers were the subject of a series of Van Gogh paintings
Almost all sunflower heads point eastward when they flower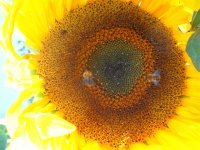 Most amazing to me however was the flower head itself.There were 2 bees having a good meal when I took this photo atop my steps ( click to enlarge as ever).
What is usually called the "flower" on a mature sunflower is actually a "flower head" of numerous florets (small flowers) crowded together.
A conversation stopper at dinnertime!
'The flower petals within the sunflower's cluster are always in a spiral pattern. Generally, each floret is oriented toward the next by approximately the golden angle, 137.5°, producing a pattern of interconnecting spirals, where the number of left spirals and the number of right spirals are successive Fibonacci numbers. Typically, there are 34 spirals in one direction and 55 in the other'.
Now that fact alone is worthy of an anorak but isn't nature amazing!
The good thing is that when the sunflowers are felled come autumn it will be the birds turn for a good meal and we all had fun growing them even if we didn't win a prize.