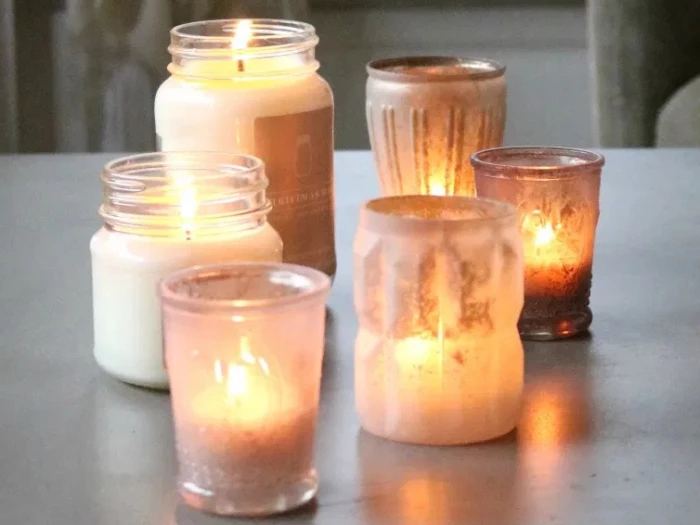 The winter solstice yesterday, was dark and overcast... which is just as it should be... but on this shortest day, there should always the promise of light. If you are affected by the darker, shorter days and feel a little low... you are not alone... Spare a thought, however, for the folk of Northern Sweden, Norway and Denmark, Svalbard, Alaska and Northern Canada, who spend months in almost total darkness... how do they keep those winter blues away?
The Danes like to make their homes "Hygge". (Pronounced Hoo-ga) I love that it sounds like "hug" and what I think what we all need right now is a mental "hug".... There's no direct translation, but, roughly translated, it means a kind of cosiness, wellbeing and warmth; enjoying the simple things in life with people you love.
Danes try to create "hyggelig" homes using thick blankets, living flames such as log burners and candles to create a cosy environment and a feeling of warmth for the mind as well as the body.
Candles
Even during the day, the Danes usually have candles burning in the home, on a windowsill, even where they are working. I tried it myself as you can see... it certainly felt like a more cheery workspace and something else I noticed too. Often when I'm working at my desk writing for an hour or two, I can feel a bit cold... with the candles burning merrily, I felt a little warmer too. The yellow light and flickering flame were rather comforting. Add a nice spiced cup of herb tea and I was quite Zen this afternoon! Some like to use scented candles, but it's not important. It's the comforting feeling we get from having them where we can see them and feel some of their warmth that seems to do the trick.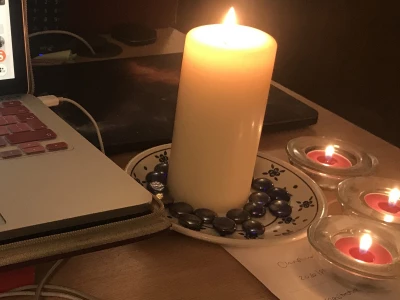 Thick Blankets or Quilts
Wrapping a blanket around you or simply wrapping one over your legs gives you a lovely feeling of cosiness... make sure there's enough for everyone or if it's big enough... share one!
Comforting Stews, hotpots and curries
Preparing a delicious rich Boef Bourginone, Lancashire hot-pot, Bouillabaisse, slow-cooked curry or yummy vegetarian stew takes only a relatively short time and you can go out for a walk then sit back on your return while it simmers. Coming back indoors after a wintry walk to those delicious smells wafting through the home is a joy! (Close your eyes and imagine that delicious aroma)
A Good Book
Curling up in front of the fire with a good book. Not just in the evening... How about whilst that stew is simmering? Try turning off the TV, (especially if it's the news) get some candles on and a lamp for reading, curl up in your blanket and indulge.
Bubble bath
When I really want to indulge, I get a few candles in the bathroom, switch off the light, find some spa music on Youtube to play on my phone and have a nice, long soak in a spice or lavender-scented bubble bath... mmm... 30 minutes of bliss!
Music
Soft music while you read, work or bathe... a must for a hyggelig home.
We'll be sharing more ways to beat the winter blues over the next week or two. With grotty weather, short days and constant bad news, we need to find a way to be happier in the winter months.
Stay safe, Tarvin