Survey work in your area
IGas Energy, who has been safely and successfully exploring for and producing oil and gas onshore in the UK for over 30 years, is in the process of acquiring data to build up an image of rock formations in the area.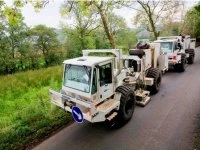 One technique used to understand the underground geology is to undertake a seismic survey. IGas have commissioned a three-dimensional (3D) survey across the Ince, Stoke, Thornton-Le-Moors, Little Stanney, Elton and Frodsham Marsh areas. The data recovered will further build on their already good picture of what lies beneath our feet, obtained from two-dimensional and exploratory drilling over recent years. The
quality of 3D data will allow their technical teams to see a reliable view of underground features and rock formations, and make better informed decisions about future operations.
It is proposed that the survey will start in early August and will last approximately six weeks.
The work will be conducted by TESLA Exploration Ltd, one of the largest international seismic contractors in the world with extensive experience of safely undertaking 3D land seismic surveys.
To provide you with more information, a public information day will be held at:
The Holiday Inn, Centre Island, Lower Mersey Street, Ellesmere Port, CH65 2AL
Tuesday 11 August 2015 from 3pm – 8pm See attached for more http://local.4119003(details
)