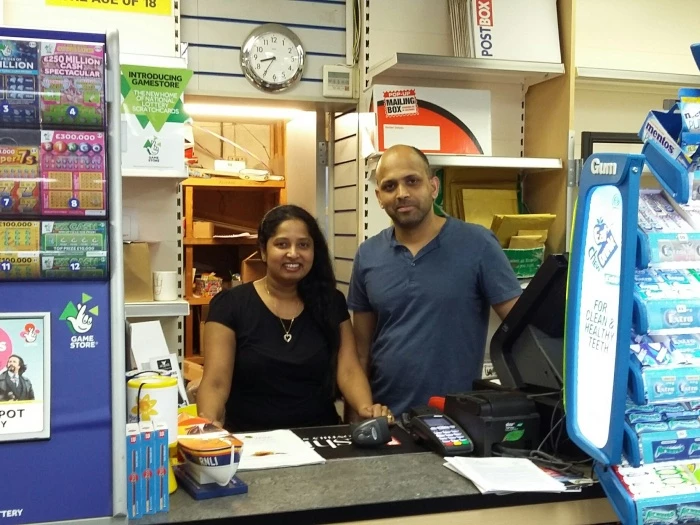 The Post office is revamping its rural offices, but unlike the railways where Station Masters have become merely Station Managers, it's to be generally welcomed that the Post Office has so far kept the traditional title of "Post Master." I had thought, however, that the updating would have recognised the role sharing of the modern family and would have also introduced the additional title of "Post Mistress." In this assumption I was completely wrong and, therefore, I must tell you that Surejh and Krishanthi Kumar are our two new Post Masters.
Surejh and Krishanthi have been living in Winsford for the last 15 years. Surejh joined Tesco where he learned about various aspect of retailing. It was this experience that more recently lead to the offer of a job running the off-licence in Tarvin. It was here that Surejh saw that the Tarvin Post Office had been put up for sale and decided it was the right time to take the leap to running his own business.
Surejh and Krishanthi, with their two children, a son and a daughter, moved into the flat above the business and are in the process of trying to settle into their new home. Their children will be transferring to Tarvin Primary and Tarporley High School at the beginning of the September term.
Surejh and Krishanthi fully intend to maintain the Tarvin Post Office's established position as an importance centre for services for local residents. They will be using the improved communication opportunities of the new style open counter to more effectively explain the wide range services that are available from the Post Office. The range of other products will also be expanded. As a start there is now a shelf of alcoholic drinks and Krishanthi said "we are considering adding groceries to the range." On the theme of being a local resource centre, they have already agreed to continue being the High Street ticket office for Community Centre events and have even donated a redundant A-frame to advertise them!
Ed: Tarvinonline wishes the Kumar family a warm welcome and every success with their new venture.