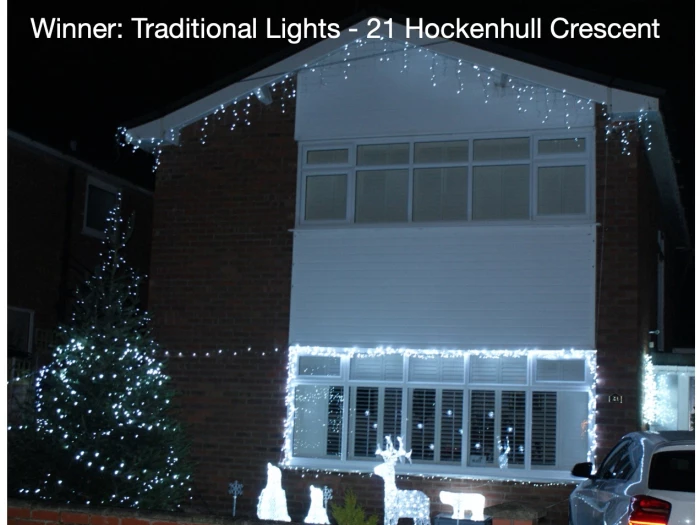 This year's competition to Light-Up Tarvin has been very successful; this is thanks to all the lovely people who lit up their houses all over the village and the business owners and churches who made the High Street so interesting.
We also had an Eco decoration prize this year and if you found time to walk around the George V Playing Field you will have seen the winning displays outside the Guide and Scout huts. A prize has been awarded that they can all share
The weather was quite inclement, with rain, storm, and ice, so we were impressed with the number of people who managed to get around the village and vote.
There were many really lovely and lively traditional lights on houses across the village, and we are pleased to say that the voting was amazingly close with only one point between the top 6 houses. 21 Hockenhull Crescent won the traditional category: A white Christmas scene with bears and reindeers on the lawn, icicle lights on the house and large Christmas Tree all sparkly white. The family will be receiving a voucher for a day out at Knowsley Safari park.
The businesses and the churches on the High Street all made their properties very Christmassy and again the voting was close with only one point between them. Tarvin News has been awarded the prize for business displays and will be receiving a prize for a family day out at Blue Planet Aquarium (once that is allowed).
The Guides and Scouts display was very well received and received many votes. They won the Eco category by a clear 5 points. To be fair, eco decorations do not lend themselves to being judged at night, so if we do it again we will have to think that one through a bit harder!
Sadly, the lights and displays are all coming down now so we will have to wait until next Christmas to wander around and wonder at the ingenuity and joy that lighting up Tarvin brings.
It has been some years since we last had a Christmas light competition and this was one of our ideas to try to cheer us up during December which, we think, it did. Thanks to everyone involved for making it a success.