By Tarvin Webteam - 25th June 2014 6:00am
www.tarvinonline.org received this email on Sunday:-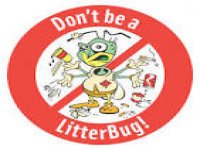 "This morning on my way home having collected my newspaper I decided to go across the King George V playing field. The waste bin at the top had not been emptied and so the rubbish that could not be fitted in was strewn around the bin. The situation was made worse because someone had dumped a household rubbish black bag by the bin which had split open. As young children were being delivered to play football and I was ashamed of the mess that greeted them I thought I needed to clean it up straight away so I went home to get a bag. It was interesting the reaction I got from some of the parents as I litter picked.
Some thanked me, but others looked at me as if I was something you scraped off your shoe, perhaps they thought I was being paid to the job!? But hey ho I felt better for having done it and the field looked better too.
When I got home I emailed the Parish Clerk so that he could complain to Cheshire West and Chester Council who should be emptying the 3 bins on the field regularly so that this situation does not arise. CWaC is a Council that aspires to be the best in the country so I find it hard to believe that they cannot keep to their own schedules for bin emptying. But what do I know about bin emptying? Probably more than many!
The Tarvin Bag Man"
popular recent storiesAlso in the news