The new Jack Ryan Film, "Shadow Recruit" based on the Tom Clancy novels is out in UK cinemas this week. If you find yourself watching it and thinking "I've seen that somewhere before", this may be because, as many local movie buffs will tell you, much of the filming was done around Birkenhead and Liverpool. In addition to this, Tarvin based company, Renby were called upon to help with special effects.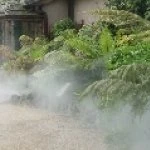 The special effects team for "Shadow Recruit" discovered Renby's MicronFogTM on the internet. They soon realised that the misting system would be incredibly effective for creating an atmospheric misty set. They also appreciated its versatility, and ease of manipulation on set. They were delighted that as well as all these things, it was cost-effective too.
"Shadow Recruit" opens on 24th January in UK cinemas. Directed by Kenneth Branagh, and starring Kevin Costner, Keira Knightley and Ben Pine – known for playing the young James T. Kirk in Star Trek. It's all action CIA thriller, where, for once, the CIA are depicted as the heroes. Branagh himself plays a powerful Russian gangster trying to cripple the US Economy.
It is the 5th feature film based around character Jack Ryan created by the late-great Tom Clancy, although it's a far cry from the likes of "Hunt for Red October". Chris Pine plays Ryan very differently to Harrison Ford in "Patriot Games". For Jason Bourne and James Bond fans suffering withdrawal symptoms, this could be what you need.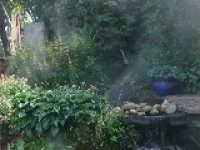 MicronFogTM was designed for dust suppression but the way the fine mist wafts and the ease with which the system can be set up, means that it lends itself beautifully to landscaping, architectural features and special effects in film sets. The effects team on "Shadow Recruit" needed a system that was not too expensive and could be re-used, tweaked and modified for different scenes and filming angles. Renby's system does exactly that. The system uses very little energy, great for film makers relying on remote generators.
MicronFogTM has been used by artists and landscapers to enhance their exhibitions. Its naturally foggy appearance looks great around the exhibits, and doesn't wet the objects or the floor area.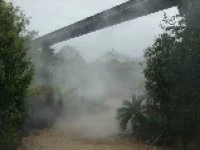 Background
Renby Limited, based in Tarvin – 4 miles east of Chester is originally known for providing Bulk Material Handling systems and dust or odour control systems. This article is yet another example of how innovation and imagination can broaden the horizons of any business. For more information on landscaping or creating special effects with fog, visit here www.micronfog.com/Applications/landscaping-with-fog.html
Renby Limited
Tarvin Mill
Barrow Lane
Tarvin
CHESTER CH3 8JF
Web: www.micronfog.com