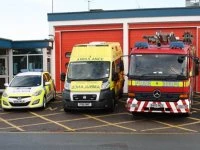 Firefighters are currently attending a road traffic collision on the M6 north between junctions 17 and 18, which involves multiple vehicles with one person trapped.
All three lanes of the motorway, northbound, have been closed by police while the incident is being dealt with.
For more information – http://www.cheshirefire.gov.uk/news-events/incidents/ongoing-road-traffic-collision-on-the-m6
Received at 1445 today
Latest Update timed at 14:30 on website
Firefighters have released one man from one vehicle, who was handed to the care of paramedics. Police, Highways England and the Air Ambulance also attended.