By Tarvin Webteam - 15th August 2017 6:00am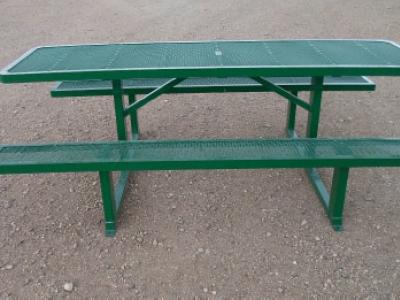 A few months ago, the Parish Council decided to buy a picnic style table for the Playing Field. While being available to all field users, it was intended to be sited to encourage a group of young people to move away from the bottom corner where their language and behaviour causes great annoyance to neighbours.
The heavy, plastic wrapped table was delivered a few weeks ago and, because of a delay in organising the permanent fixings, it remained parked against the hedge.
On a week ago Councillor Lush, who regularly picks litter from the Playing Field, was annoyed to find that the plastic had been ripped off and scattered about and that the table had been removed to the far corner. There was a party in the Community Centre that afternoon attended by Councillor Lush, and he organised a number of party guests to retrieve it.
It was put in the Community Centre grounds and the gate to the field was locked. It is fair to say that a congratulatory drink was probably raised!
Imagine the surprise ... and annoyance... when, an hour later, it was discovered that the table had been manhandled over the locked gate and again placed in the corner. Another recovery was organised and, regrettably, this time its liberation was accompanied by a certain amount of colourful, verbal sparring.
The picnic table is now under lock and key until it can be properly fixed to the ground!
We leave Tarvin residents to decide if this was an inspired move, an cheeky move or just darned cheeky.
Ed: It is anticipated that the table will be installed towards the end of next week.
popular recent storiesAlso in the news