By Sue Hardacre/Jane Lush - 2nd October 2013 6:30am
The English do love a good murder!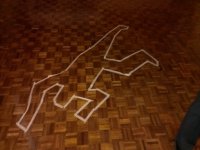 On Saturday evening (Sept 29th) the Community Centre was transformed into Watersdown Mansion, a country house of some elegance, and transported back into the 1930's, when the Kelsborrow Choir held a Murder Mystery Evening.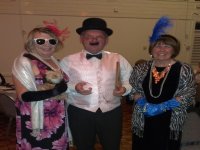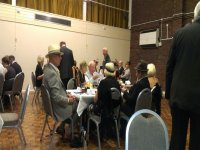 Most of the guests at the Mansion came, as etiquette would dictate, attired in appropriate clothing of the era, which added greatly to the enjoyment and fun. Long dresses, fur stoles, pearls and dinner suits — all were on display.
The purpose of the evening was to find a murderer and each of the tables of eight was given a script full of information and clues.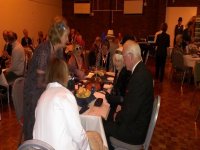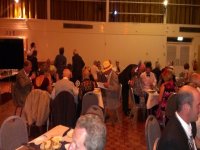 As well as stimulation for the brain the evening also included nourishment for the body, with a three course meal of pate, pie and Pavlova being served. The bar was also rumored to add some extra stimulation to brain cells.
As dinner progressed more clues were revealed. At first the revellers were shocked and reticent, but as the wine flowed they began to question one another, to seek out clues and to speculate as to who could have done such a terrible thing.
At the start of the last round, the identity of the murderer was revealed privately to one of the participants at each table who was then allowed to lie like a trooper to evade detection! Finally all were required to name their prime suspect — but were they right?
Only two of the eight tables were successful in finding the culprit, so perhaps Cheshire Constabulary need not worry that their detectives need to be made redundant any time soon!
Irene Wilkinson, Social Secretary of the Kelsborrow Choir said "This was a wonderful social evening and brought together both Choir members and their friends to enjoy some fun. Any profit that was made will help boost Choir funds and allow us to continue making music ".
The Kelsborrow Choir meets every Tuesday evening at 7.45pm in Ashton Hayes Community Centre. They are currently rehearsing for their Christmas Concerts and anyone who would like to find out more should contact Alan Hibbert, Choir Secretary on 01948 258678 or by email at alanhibbert@uwclub.net
popular recent storiesAlso in the news