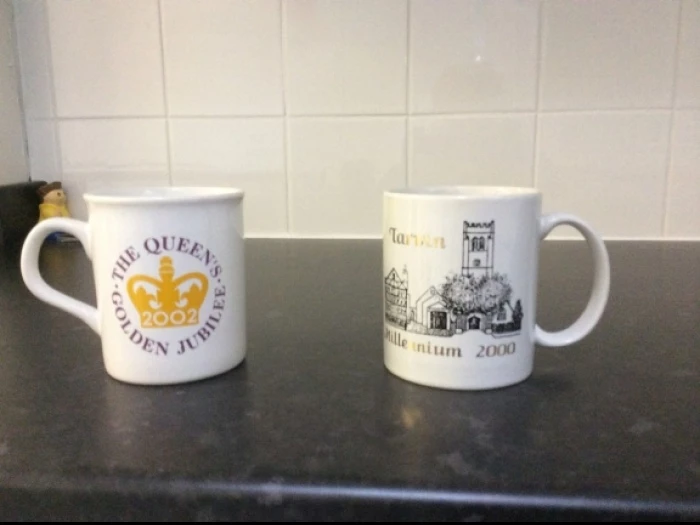 The Management Committee of the Community Centre have been concerned over the past few weeks about the loss of the Tea/Coffee mugs. Users of the Centre may have noticed that recently the number of mugs has reduced and also some of the mugs have changed their colour and shape.
Anxious to put a stop to this the Chairman has issued the following statement:
"An operation will be set in place, and a covert observation team established. Hidden CCTV cameras will be installed and hours of observations will take place. The results of these observations together with hours of CCTV footage will be reviewed. The mystery will be solved!
It has been decided to invest in new mugs for the Centre displaying our new Logo.
These mugs will have to be specially manufactured and will incorporate the latest technical innovations available. Each mug will incorporate a microchip with a unique tracking system, this system allows the Community Centre Committee, the CIA and GCHQ to track and locate missing mugs to within 50cm. All missing Mugs, on being raised to an individual's lips, will spray indelible purple dye into the faces of miscreants" This unique system has been developed by the Tarvin Innovation Team (otherwise known as the Tits team) A Mug Shot will be automatically downloaded to our Computer.
Obviously the Chairman is indulging in a bit of wishful thinking, but it is a problem that has suddenly become quite serious. When the kitchen was redecorated, there were 3 shelves of mugs and this in now reduced to two, with the Jubilee and Millennium mugs taking the biggest hits. The Committee is looking at buying some new mugs though they will be of a traditional type!
Perhaps, instead of microchips and dye, we could declare a "Mugs Amnesty" and hope that a few return quietly and mysteriously by themselves.
PS – the Community Centre also seems to be missing most of its forks................