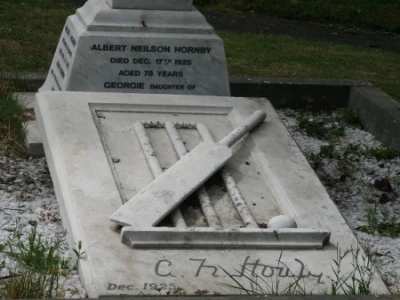 England take on Australia in the Ashes series today, and you may be familiar with all the latest players, and hope that England retain the Ashes, again!
It is called the Ashes because in 1882 England lost the match to Australia which resulted in the burning of the bails. The captain of England on that day was A N Hornby and there is a memorial to him at St Mary's Acton Church, near Nantwich.
If you catch the 84 bus from Crewe you may notice by the bus stop at St Mary's Church, Acton, a large cross with a large white plaque showing a cricket bat and unbroken stumps and wonder who is remembered. The plaque is in memory to Albert Neilson Hornby. Hornby lived in Shrewbridge Hall and after his marriage, Bridge House, Church Minshull. He moved to Park Field, Wellington Road, Northwich in 1885, where he lived until his death in 1925.
A N Hornby was said to be the best known sportsman in England in the 19th century, playing both rugby and cricket, and he became the first man to captain the country at both sports. He also played football for his home town of Blackburn where he was born in 1847 before he moved with his parents to ShrewbridgeHall, Nantwich. But he most famously captained the England cricket team whose side lost the Test Match against Australia in 1882 which later became known as the Ashes.
The Test Match in 1882 was a one off game played at the Oval and England lost to Australia by 7 runs. In response the Sporting Times printed an obituary to English cricket ending with 'the body will be cremated and the ashes taken to Australia'. A N Hornby scored only 2 and 9 in the match where W G Grace indulged in a little gamesmanship. He played just three tests, his last being in 1884 but he continued as captain of Lancashire until 1898 even though he was already 50 years old.
Albert Hornby played for Lancashire for 33 years and earned the nickname of Monkey whilst he was at school and The Boss at Lancashire for his 'martinet captaincy style', but in history he is known by his initials 'A N'.
He was president of the Lancashire club until 1916 and his portrait can be seen in the long room at Old Trafford. He died in 1925 and was buried at St Mary's church, Acton.