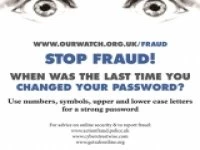 Neighbourhood & Home Watch Week is an annual campaign that takes place during the week of the summer solstice. In 2014 it will run from 14-22 June.
This year the theme for the week will be 'Fraud & Cybercrime'

We have listed some issues to consider
Do you know what social networks your child uses? Talk to them! Visit www.getsafeonline.organd www.cyberstreetwise.comfor advice.
Is your password strong? Use numbers, symbols, upper and lower case letters for maximum protection.
Banks and financial institutions will never send you an email asking you to click on a link and confirm your bank details.
Scam or attempted scam? Don't suffer in silence! Report it to www.actionfraud.police.uk/ 0300 123 2040
Have you been scammed or fallen victim to fraud? Talk about it – you could help protect others!
CURVY MATURE BLONDE WANTS YOUr money. Never send money to someone you haven't met in real life!
GENTLEMAN, 45, LIKES FAST CARS AND taking you for a ride... in every sense. Never send money to someone you haven't met in real life!
Stay safe from identity theft & fraud, shred receipts with your card details on and correspondence with your name and address on.
Your bank would never contact you to ask for your PIN, password or other security information in full. Report it to www.actionfraud.police.uk
Uncharacteristic email from nephew promising a dancing kittens video? It could be spam & contain a virus. Be wary of attachments!
Computer firms do not make unsolicited phone calls to help you fix your computer. Put the phone straight down – don't get drawn in!
Worried about your computer? Ask a friend or relative to recommend a good repair person. Ignore unsolicited calls telling you something is wrong!
When did you last update your anti-virus protection? Don't put it off any longer!
Would you leave your burglar alarm unset when you go away? Make sure you don't make the same mistake online – update your antivirus protection today.
If an offer seems too good to be true, it probably is. Ignore, ignore, ignore.