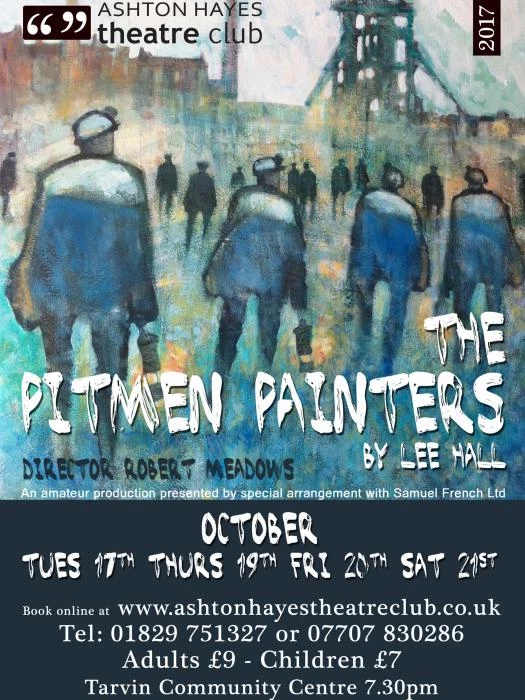 The Community Centre is delighted to announce that the next production from this excellent local group will be The Pitman Painters by Lee Hall on 17th,19th 20th and 21st October at 7.30pm Tickets are £9 for adults and £7 for children.
Yvette from Ashton Hayes Theatre Club says "The Pitmen Painters is extraordinary for all sorts of reasons, but chief among them is the fact that it manages to be both a great night out and gravely serious. It is a funny play that asks big questions about education, culture and the working classes without ever being patronising. Lee Hall's play tells the true story of the Ashington Group: a collection of Northumbrian miners – and one "dental mechanic" – who, in 1934, under the auspices of the Workers' Educational Association, employed a tutor from the local art school to teach them "art appreciation". In the years that followed, these men, poor and uneducated, learned to paint. Hall can be sentimental, as anyone who has seen Billy Elliot knows. But here, sentiment is kept in check by political reality, raw as the Northumbrian wind. The joshing banter of the miners is richly comic, while their determination to learn and make the best of their harsh lives proves deeply affecting. As in Billy Elliot, Hall insists that culture should be available to all and that there are more worthwhile things in life than getting bladdered down the pub or sitting slumped in front of the telly. Why should the working classes be forced to make do with rubbish? "
TICKETS ON SALE NOW AT www.ashtonhayestheatreclub.co.uk
This production is one of several excellent theatre productions in the next few months. With its mix of top quality amateur and professional productions, the Community Centre continues to establish itself as a top class rural venue.
Tales of Birbal – Indian Fairy Tales for children, November 3rd at 6.0pm
Wuthering Heights – an adaptation of the classic novel – November 18th at 7.30pm
Snow White and the Seven Dwarves – traditional Panto – December 2rd at 3.00pm
Baggage and S.P.A.C.E. – two contemporary dramas – Jan 27th 2018 at 3.00pm