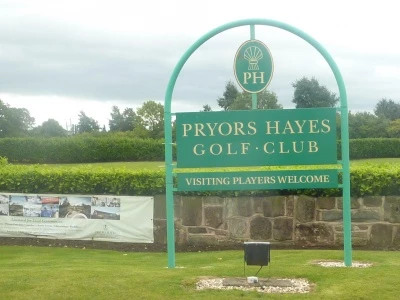 The first thing to say about Hartford Leisure Ltd, who took over ownership of Pryors Hayes Golf Course from the administrators on the 1st January, is that it is very much a family concern. It is also a business that plays to the strengths of the two Barnes brothers
Tim Barnes used the knowledge he gained from writing his dissertation for his sport science degree at Loughborough University to start a Golf Driving Range business on land belonging to the family's farm in Hartford in the late 1980's. When some 10 years later the decision was made to buy an adjoining piece of land to build a nine hole golf course, it was Tim's brother and business partner, Richard, who had obtained his degree in Urban Development, who built both the course and the club house.
The brothers became interested in Pryors Hayes Golf Club about 14 years ago, so when they bought it recently it was no sudden impulse but rather the end of a very long courtship. In business, the technical term for bringing together the two clubs is synergy, but the brothers are obviously hoping and planning for what is more commonly called a "marriage made in heaven"! Pryors Hayes and Hartford Golf Club can compliment each other in many ways.
Tim and Richard now intend to create a partnership between the two golf clubs. They believe that both clubs have excellent staff in key areas, the office and Pro shop, bar and restaurant, and green keeping, areas of expertise that offer many opportunities for team building. They also see opportunities for sharing the cost and usage of the expensive machinery that is now required for the upkeep of modern golf courses.
The members will also be able to enjoy the benefits from these synergies, but they will also have the opportunity to take advantage of the differences between the two clubs. For instance, Hartford has an indoor fitting studio able to measure a member's performance with different clubs and with all the recent wet weather it cannot go unnoticed that Hartford is built on sandy soil with excellent draining properties! It would be presumptuous for a Pryors Hayes member to mention what Hartford members might consider a bonus, but the fact that one course has double the number of holes is difficult to miss.
The two clubs do, however, share one common activity, both have diversified into providing successful wedding and party venues. Non-golfers are now as welcome in the two clubs as golfers and, therefore, they have become an important facility for both their local communities. The Pryors Hayes restaurant is now open to all, so Tarvin residents can enjoy a drink and a meal in a very pleasant part of the parish.