On June 15th the Strategy Working Party of the Parish Council met representatives of Gladman Development Ltd who are working on behalf of the owners of Church Farm to develop some of the land east of Tarporley Road for residential and recreational use. The role of Gladman, a highly professional and very successful land development company, is to secure outline planning permission for the owner and then invite bids from construction companies to realise the vision in brick and mortar.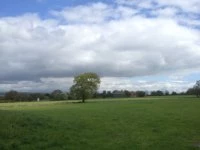 It has been the view of the Tarvin Parish Council that, should there be pressure for the Parish to take more housing, the best place where this could be built is on some of the land east of Tarporley Road, preferably as close to the road as possible.
The Parish Council accepts that Tarvin is to be a Key Service Centre under the Cheshire West and Chester Council Local Plan and that the number of new houses mentioned in that document might well indicate a minimum and not a maximum number.
However the Parish Council is also adamant that no new housing should be allowed without a significant investment in community facilities, specifically a village car park and new recreational facilities.
Any discussions at this stage of a proposed development are by their nature exploratory and tentative. The suggested number of new homes mentioned at the meeting was in the region of 200, but a multi-use sports area, a football pitch, skate park and small carpark were included in the first draft outline.
However, the Parish Council were very concerned that the area under discussion is only the Church Farm land. The area believed to be the ONLY place for a village car park is owned by Chester Diocese, any car park on the Church Farm land would probably be too far away to serve the High Street. Beyond Church Farm is land currently owned by Cheshire West and Chester and the Parish Council believe that, in the near future, Cheshire West and Chester Council will want to raise much needed funds by selling this to a developer.
The Parish Council believe that the most constructive way to deal with this dilemma is for ALL the land owners to work together to give Tarvin a development that would meet many more of the villages needs while allowing the land owners to realise significant profits from the development of their land. Such an approach would also better secure another Parish Council requirement which is to maintain a significant open space between Oscroft and Tarvin.
The Parish Council realises that the relationships between Planning Authorities and land developers are not always straightforward, but it agreed to write to the new Cheshire West and Chester Council administration to urge them to work constructively and jointly with Gladman and the Diocese to produce a Master Plan for Tarvin that will be a credit to all and a welcome addition to the village landscape.