The Parish Council has been anxious to support local businesses by improving the road signs at the entrances to the village in order to encourage more people to use local shops. There are strict rules about what can be put on road signs, including what can be put on the 'brown' information signs.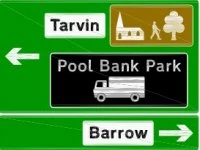 After a period of lengthy but productive consultation with CW&C Highways Department it has been agreed that new signage incorporating brown 'church' and 'walk' symbols will be erected at the three entrances to the village, the A51/Tarporley Road junction and the A54 junctions at the High Street and Lower High Street. These two symbols are the only ones from the approved list that reflect what is available in Tarvin.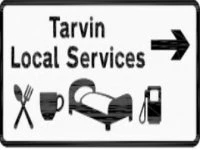 Also to be added are three smaller, black and white road signs indicating that the village can offer petrol, food, drinks and accommodation. It is also hoped that the sign at the A51 junction can incorporate a Pool Bank Park symbol that will inform heavy vehicles approaching from the south that they should proceed to the roundabout and turn right rather than cut through the village.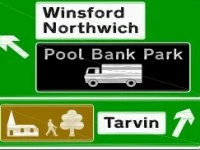 The cost of the new signs will be approximately £2,600 and will be met by the Parish Council from money received from the New Homes Bonus.