A New – Small – Facility for the Village
At the beginning of the month the Community Centre reached a verbal agreement with CW&C that they could have access to the rooms vacated by the Children's Centre free of charge for a year. The intention is to see if the rooms can generate income to help pay for the annual service charge.
The Committee is delighted to announce that the largest of these three available rooms is now available for hire. It has been named – with a definite lack of verbal imagination – the SMALL ROOM. The room will seat about 20 people so might be used as a committee room. There will be the ability to use a screen and projector, and of course there will be access to the free Wi-Fi system.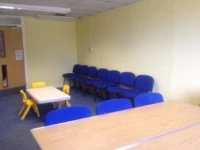 Another use might be for a social or special interest group who usually cater for a smaller number of guests. The room would make an ideal small therapy room, for either physical practitioners or for the talking therapies. The room is quite discrete and the parking facilities are excellent.
The costs have been now decided. They may seem slightly arbitrary but reflect a proportion of the costs of the other rooms:
Village organisation – £6.43 per hour
Outside Organisations (providing services for the village community) – £9.43 per hour
Business/Government/Local Authority – £12.85 per hour
The Committee would also be delighted to talk to anyone who currently uses the Edna Rose Room but feels that a move to a smaller room would be beneficial. Do contact 01829 740868/741962 for details.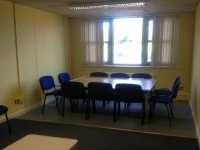 As for the other two even smaller rooms, they are currently being used for some targeted storage that should benefit local groups who use the centre regularly. One great advantage for some of the Committee members is that there will always be some tables and chairs stored there, thus greatly reducing the distance travelled and effort needed to make the Edna Rose Room ready for use. A number of creaky old bones will definitely benefit!