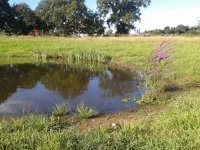 Just over a year ago David Smeatham went to have a look at the newt ponds that had been created as a consequence of the Saxon Heath housing development. The water's edge vegetation was then starting to grow and the water looked nice and clear.
At that time he wrote " Like many, I worry a bit about the impact of the changes on the environment within the village which, after all, is why many of us live here. However, walking round on such a lovely morning it does not take long to realise how fortunate we are to live in such fantastic surroundings".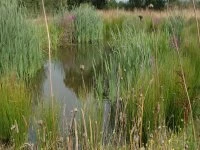 He decided to go along a couple of weeks ago and see what had happened in the year and wow what a change. As well as the obvious changes in the maturity of the plants, the diverse array of wildlife that has taken up residence over the year was amazing.
(Ed. The Parish Council recentlypublished an articlehighlighting some of the current maintenance issues about the pond and land surrounding it. Of more concern perhaps is the area's future when Taylor Wimpey have packed up tools and gone home for good)