NHS 111 now available online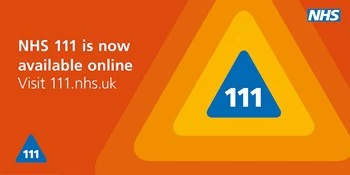 Think you need medical help right now? NHS 111 is now available online.
Dr Kieran Murphy, Medical Director for NHS England (Cheshire and Merseyside, Lancashire and South Cumbria), says NHS 111 online is a fast and convenient alternative to dialling 111 and will make it easier for people to get the right care first time when they have an urgent but non life-threatening medical concern.
Dr Murphy explained: "NHS 111 online uses the same clinical algorithms as the 111 phone service, taking you through questions about your symptoms and providing tailored advice on what to do next and where to go. You can access NHS 111 online on a smartphone, tablet or computer 24-hours a day, 7 days a week and if needed you will be connected to a nurse, doctor or other trained medical professional.
"This is a new way to access the NHS 111 service and provides you with another convenient way to get the right help or advice when you need it. Whether over the phone or online, NHS 111 will ensure that you get the right care from the right person as quickly as possible."
So, if you think you need urgent medical help, call NHS 111 or visit: 111.nhs.uk.