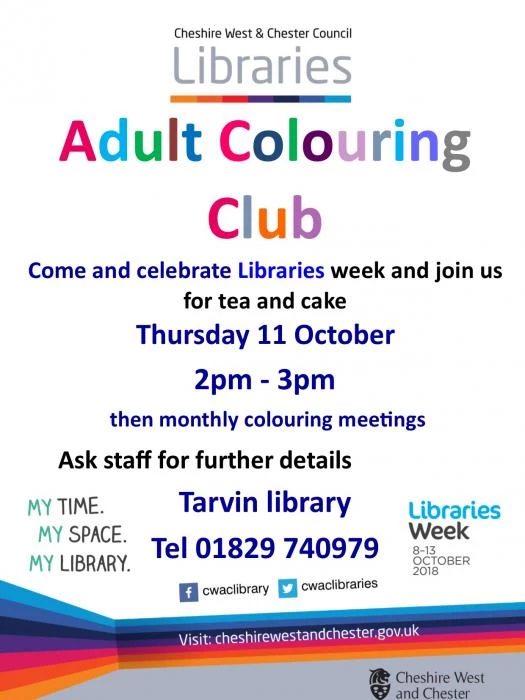 Tarvin Library is celebrating Libraries Week this year with an invitation to adults to join in an Adult Colouring session. If you come along on Thursday 11th from 2.00 pm till 3.00 pm, you will be able to colour in pictures that have been specially created for adults. If the afternoon is a success, then a regular club will be started though without the tea and biscuits that will be provided for the first session. The event is free and colouring books and pens will be provided.
The idea of a National Libraries Week was started in the United States over 50 years ago, but now the idea has become a world-wide phenomenon. The idea is to celebrate the work that Libraries do and the contribution they make to individual well-being and community cohesion.
The idea of 'grownups' colouring in has become rather popular in recent years. The activity needs some concentration – "don't colour outside the lines"! – but this is said to develop a calm and focused mind set. Such periods of calm, especially if enjoyed with others doing the say thing, are good for us, helping to combat stress and loneliness. Those of us who have looked after small children will know how well the introduction of colouring pens and paper can calm a fractious child, so why not for grown-ups as well?
For more information, just pop in any time this week and have a word with Carol or Julie.