A couple of days ago I was on my usual walk along Grogan's Way with my dogs. Many dog walkers I pass often walk with their head down, looking at the ground, deep in thought whilst the dogs root around in the undergrowth and visit every tree without running out of ammunition!
To my absolute amazement, and some concern, I saw the gravel path ahead of me move! A handful of stones went up and down.
Now I have seen a couple of horror movies and know that when the earth moves upwards bad things appear!
However nothing appeared but the rising loose stones proceeded across the path.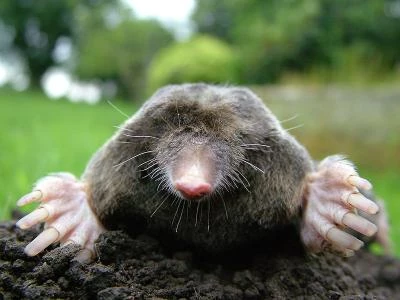 You are right it was a mole in action and during the day as well.
The dogs started sniffing the pile of stones and that was that – no more movement.
There is a lot of mole activity in the Woodland at present as all the heaps of earth demonstrate. Further along the path there is one of the great information signs provided by the Woodland Trust and this one was on moles- fascinating reading. So with a better understanding I inspected further molehills but to no avail.
Still you never know. Has anyone else ever experienced this I wonder or is this a Tarvin first?