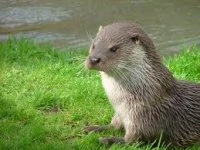 You may recall in a previous article that Otters were thought to have returned to the Gowy following a period of absence which may have been due to pollution.
During last year spraints (dung of an otter) and footprints were detected regularly on the bank next to the middle bridge. Motion sensors and an infrared camera, placed adjacent to the river by the charity Cheshire Wildlife Trust have captured images of the otters. This rare footage can be viewed on the BBC website.
The charity spokesperson said "We're so used to tracking the progress of otters through field signs like footprints and droppings that video footage like this is invaluable especially when it shows a healthy family."
(Ed. as you will see on the BBC link the video was taken at night. The otter picture in our article is not related to this sighting)