Over by Christmas is a FREE event.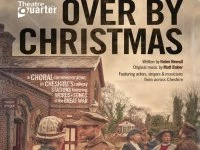 Theatre in the Quarter (TIQ) will mark the centenary of the Great War with an ambitious programme of work. They will create an evocative costumed musical performance of songs, both familiar, local and original which reflect the initial spirit of optimism and patriotism in which soldiers went off to the front in autumn 1914. In line with TIQ's history of finding new non-theatrical spaces in which to perform, this exciting large-scale community event Over by Christmas will take place on railway stations across Cheshire. The performance will include choral singing, minimal dance/movement, and be accompanied by a live band of musicians. A choir of soldiers will recreate their departure on the station platforms singing songs both well-known and less familiar, while their mothers and loved ones bid them farewell. The project will engage people of all ages across Cheshire.
This Sunday 14th September the nearest opportunity for Tarvin residents to see this is in Delamere.

Times (subject to change but see here for more information) are
For performance 1 outside Delamere station – 2.00 pm
For performance 2 at the Visitor Centre – 3.30pm