CW&C has received a number of complaints from the public about the difficulties experienced by road users at the beginning and end of the school day. On Thursday 24th November, two of their officers, Councillor Hardacre and the Clerk met outside the school at 3.00pm to assess the situation.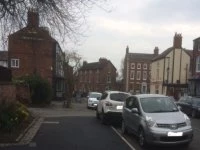 Whilst a problem in Tarvin does exist it is no worse than that experienced outside nearly every school in a residential area throughout the Borough. Indeed, with most of Tarvin Primary pupils coming from within the village, the problem is slightly better than for schools that have a wider catchment area. For a host of reasons, more pupils are dropped off and collected by car, often with the safety of the child being the paramount reason that parents and carers choose this option.
On some occasions, Thursday being one, the school has used cones to mark the area opposite the entrance, but it was confirmed that only police cones could legally be used with police approval and only for a limited time. The definitive legal position will be sent to the school. While the cones reduced parking close to the school, it did push the problem nearer the junctions of Hockenhull Lane, Hockenhull Avenue, and Hunters Drive potentially causing more disruption.
The CW&C Highways Engineer confirmed that Heath Drive was scheduled for some surface treatment next year and that she would look into the possibility of renewing the worm yellow zigzag lines and extending them to cover the whole of the school road frontage, including the new entrance to the Pre-School. This would allow people to park legally opposite but would rely on individuals being considerate to residents and not parking across driveways.
When the school was extended recently the number of extra parking places was restricted by the presence in the school grounds of a mature tree protected by a Preservation Order. This means that 6/8 staff members regularly have to park on Heath Drive. The Parish Council will suggest to the school that they look to using the CW&C section of the car park in the Community Centre grounds.
Whilst the Parish Council recognises that this issue causes concerns, it is aware that the solution lies mainly in the hands of individuals who use cars to transport children to and from school. While the volume of traffic will increase for two short intervals during the day, the Parish Council urges all drivers to be considerate to residents and other road users and to be aware that walking a few extra yards can make a big difference to everyone.
Ed. The traffic photo is another example of Tarvin traffic