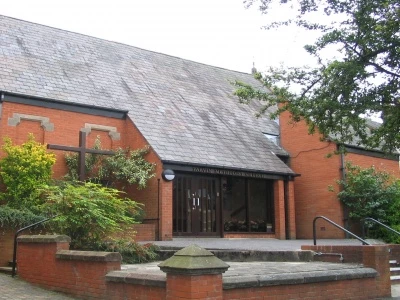 We are talking aboutSaturday, 15th May @ 10am!
While the plant sale itself takes place on just one day, the preparations for it occupy the bulk of the intervening year. No sooner is this year's sale over than green-fingered ladies begin collecting more plants from which they are able to propagate the new plants which will then form the stock for next year. Indeed, I suspect that the need to propagate plants is so deep seated in these lady-gardeners that, even if the plant sale didn't exist, the growing on of new plants would be happening anyway! And the outcome is a collection of strong, healthy plants of which any nursery would be proud – and which can be sold on at prices which are exceedingly favourable while still yielding a cracking profit for the funds!

Heather Exell will be selling the hanging baskets, planted pots and the annual plants that she has been nurturing (with some difficulty, since I believe there have been several thousand of them) from her front gate at:
CHURCH COTTAGES, CHURCH STREET, CH3 8EB between 10am and NOON on SATURDAY, 15th MAY, 2021.

Jacqui Bradley, on the other hand, will be selling her perennial plants, vegetables and herbs (a good many hundreds of potted plants in total) on the front drive of
4, ANDREW'S CLOSE, CH3 8LN between 10am and 4pm on SATURDAY, 15th MAY, 2021.

The ladies growing the plants and the Woodland Trustees have agreed that, for this year, the profit from the sale will go to help with the financial difficulties being experienced by Tarvin Methodist Church. Thus it is that the Chapel ladies have decided to offer take-away refreshments from the patio door of 4, Andrew's Close, with tea, coffee, squash and a choice of cakes being available to assist in the process of deciding which of the lovely plants to choose!

It won't be (it CAN'T be) the plant sale that we have been used to on the frontage of Tarvin Methodist Chapel, but everyone will be doing everything in their power to make it the best day possible. And, rain or shine, you can be sure of great plants at bargain prices. It really will be an event not to be missed!