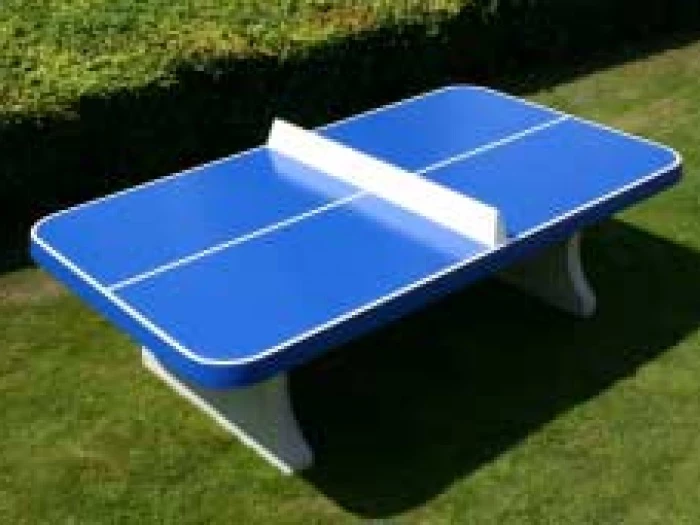 The Parish Council is in the happy position of having precisely £18,828.00 to spend on Play and Open Space Provision. This money has been set aside by the developers of the Millside Close development, on the former Copper Kettle site, as part of their planning approval conditions. The money has to be spent during the coming year or the developer can reclaim the amount.
The Parish Council has decided to add some facilities to the play equipment on the King George V Playing Field and have agreed to purchase a concrete table tennis table at the cost of £2,300.00 and grass matting to protect the area around it for £1,280.00. The table is designed for tough, outdoor use and table tennis is an activity that is enjoyed by a wide age range. Bats and balls will not be provided!
Money will also be spent on some new landscaping to improve the hill and slide within the small play area which has become worn with constant use There is also a tarmac path by the small swings that needs relaying, a small job, but one which will remove a trip hazard for little ones.
The suggestion was made to buy a concrete chess table at £2,595.00. While Councillors accepted that chess also appeals across a wide age range, they were less sure that there was enough local demand and hope that the public will give them some guidance on this. If there are any other suggestions for new equipment then please do let the Council know. It should be suitable for outdoor, year round use and be sturdy enough to stand up to lots of wear. It should also be capable of withstanding a degree of misuse. The Parish Council has concluded that while there is always a danger from vandalism, doing nothing in case something 'might' happen is not a positive way to proceed.
Please let the Parish Council know your views by contacting the Clerk on 01829 741075 or on miketarvinparish@aol.com. Or leave your comments on the tarvinonline Facebook page.