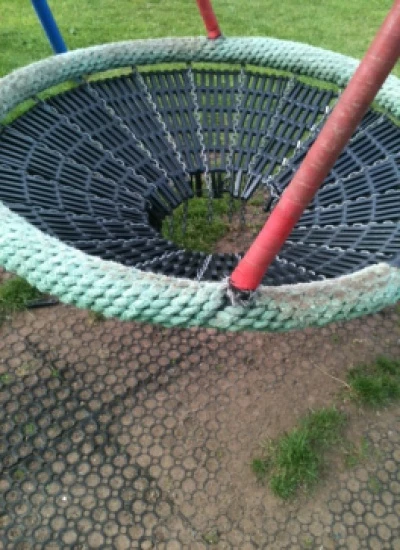 To the dismay of many of its young users, the nest swing on the Playing Field has been badly damaged. There is now a hole in the base of the netting so that it is quite unsafe to use. Exactly how and when the damage occurred, and if it has been done accidentally or deliberately, has yet to be determined. The play equipment is designed to take some rough handling and is manufactured to a high load tolerance.
The manufacturers have been contacted and repairs or a replacement will be done as soon as possible. The equipment is the responsibility of the Parish Council, and the cost of a replacement could be as high as £3,000. The Council does carry appropriate insurance but even in the event of a successful claim, an insurance excess will make an unwelcome dent in the Parish Council budget.
The play equipment on the Playing Field is a great asset to the Parish and youngsters of all ages have had a great deal of fun there, especially during the long hot summer days. If anyone has any information about the incident can they please contact Mike Hassall, the Parish Clerk, on 01829 741075.
And can parents take care to keep their youngsters away from the swing for the time being so that nobody gets hurt.