'On Saturday, 16 May, Tarvin Tennis Club held its "Play Tennis for Free" event in support of the LTA whose objective is to get more people playing tennis on a regular basis. This is the second time Tarvin Tennis Club has held such an event and again we are indebted to the Club Secretary, Felicity Pochin, who was the principal organiser.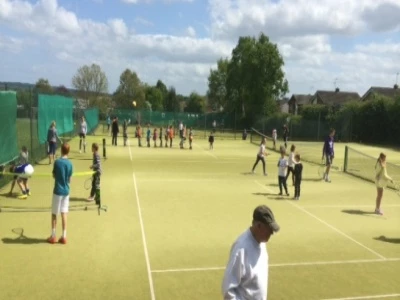 57 non-members, many of them local youngsters, took the opportunity to have a go and had the benefit of coaching from tennis coaches, Gary Ward and Laura Cosgrove. They were supported by up to a dozen Club members who gave up their afternoon to help out. Particularly pleasing was the number of the Club's junior members who were very prominent in providing help and instruction.
Although the event was not limited to Tarvin residents, it was pleasing that many who attended were from Tarvin, and the hope is that some will join the Club in order to play on a regular basis.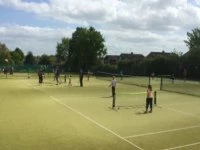 For adults, Gary Ward is running "Rusty Rackets" sessions on Tuesdays at 6.30 pm which is open to non-members. For the first three weeks those taking part will be able to play for free.
Finally, the Club now has a new website – www.tarvintennisclub.wordpress.com – which explains more about what is going on at the Club and how to join.'