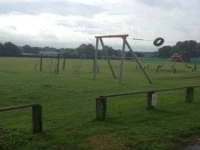 The PC has set aside money to improve the car park at the Playing Field and provide a new picnic table as well as renewing the surfaces in the play area. This will require both the car park and play area to be closed to the public when the work is being done. All users of these areas , particularly the Bowling and Tennis Clubs will be informed.
The PC has however agreed there would be no increase in the 2017/18 precept. This means that the precept for a Band D property will be £32.27. The PC will receive a total of £41,822 from local residents to run its services and pay for improvements.
Tarvin residents – how do you rate their efforts ? Value for money?