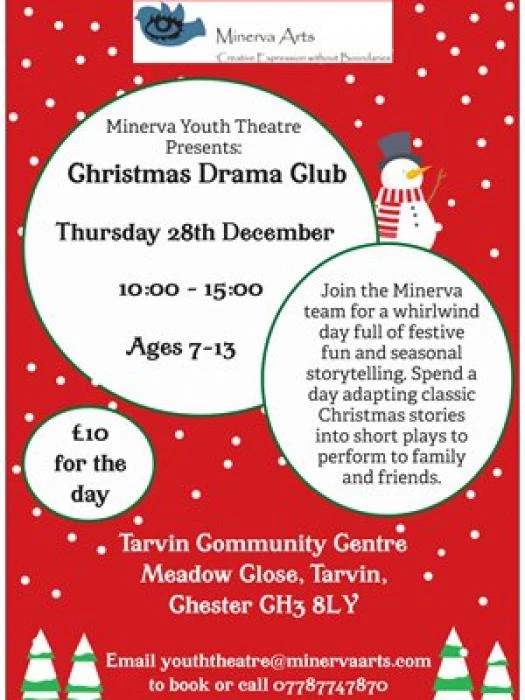 Minerva Arts in Chester is bringing a creative theatre workshop for young people to Tarvin Community Centre on Thursday December 28th. Running from 10.00 until 3.00 the session will concentrate on seasonal storytelling and the creation of short plays to be performed for family and friends. The day has been organised for children from 7 – 13 and is run by qualified and experienced personnel. The cost will be £10 for the day.
Minerva Arts was formed in 2007 by two University of Chester graduates and aims to develop a range of creative skills in young people. Drama can be a way of building up the 'soft skills' that can be overlooked in today's tight and prescriptive school curriculum. As well as developing the imagination, drama helps young people cooperate with others, focus on a common goal and build up self-confidence in public. It is also a great way to make friends and to have fun in a safe and nurturing environment.
If you know of a young person who would enjoy such a session then do get in touch with Minerva at youththeatre@minervaarts.com or give Hollie, their Youth Theatre Manager, a call on 07787 747870.
Minerva have also booked a number of similar sessions at Tarvin during the holidays in the early part of 2018. If there is sufficient interest shown, then there may be an opportunity for the establishment of a more permanent youth theatre group in the Community Centre at a later date.
For more information about Minerva Arts go to www.minervaarts.com