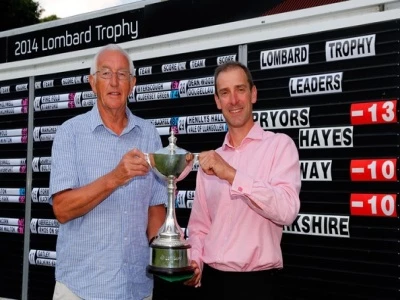 No they are not off to watch the Europe versus America Ryder Golf Cup competition which is due to be held at Gleneagles in September and they certainly have not been called up to play in the Ryder Cup team. Nevertheless local residents can still be proud of the fact that the club captain, Dave Tweddle, and the club's PGA professional, Adrian Hill, have reached the Lombard Pro-Am Trophy final at Gleneagles 2nd and 3rd September, just three weeks before the Ryder Cup is held at the same venue.
They reached the final by winning the last of the 2014 regional finals at Dunham Forest Golf Club and they did it in style by recording an untouchable 13-under-par round of 59, three shots ahead of the nearest rivals. The score also happened to be the lowest at any of this year's events!
The final will be played over the Kings Course for a total prize fund of £43,600. The club's members will all be wishing them every success and some, with an eye on the potential prize money, may be hoping for a drink with the Captain if they win. They may have to be disappointed, however, because even if they win, Dave as an amateur is not allowed to accept a cash prize. Dave Tweddle said "I think that if we finish in one of the top three positions I might get a small memento or commemorative plate" There is, however, no such limit for the professional in the partnership and with this in mind some club members may be calculating whether extra trips into the Pro-shop might just be worthwhile!