Carrying on from the previous article (Part 3) Miss Radcliffe now describes Lower High St.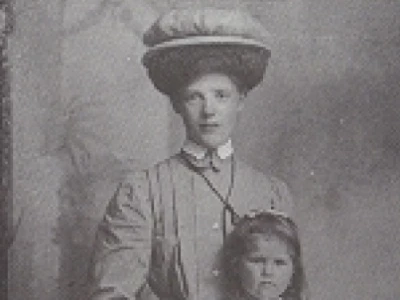 She goes to Gunnery's shop "Now my word, that was some shop! In those days they were all men assistants. Inside, the shop was lovely. There were counters all round the shop where you could give your order and sit on a chair while you did it. All around each side were large tins of biscuits , three high, with all the different types and you chose what you wanted- you had them weighed out for you."
"I remember Mr. Sadler at Gunnerys, he was a very much loved Sunday school teacher and preacher at the bottom chapel. It was during the First World War they had the two girls, as assistants, Emily Salt and Mary Parkinson and very well they did too. In the old days the apprentices who were learning the trade lived in. There was a room at the top where they lived. Old Mr. Gunnery used to have prayers with them." (Gunnery's shop below)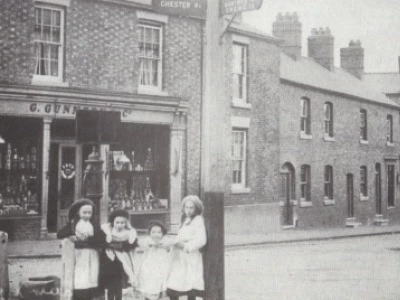 "Mrs. Sadler kept the drapers shop"(at the other end of the row from Gunnerys) "You could get anything at her shop; they sold ribbons, cottons and I think they sold frocks and blouses and things by the yard- they had one of those measuring sticks- and this that and the other and Fit-U corsets."
"Then down below them lived Mr. Isaac Woodcock.He was the very famous pig killer.They used to say that they never knew anybody who could kill and hang up a pig quicker than Isaac could, just a second or two. Mr Woodcock is on the right in the photo"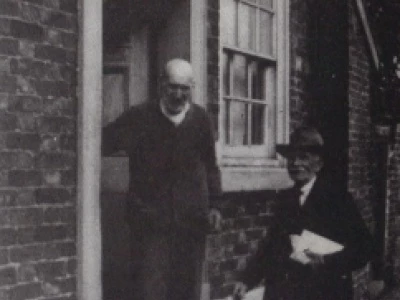 "There was a yard behind with several houses. At the corner of Arden close was a shop run by Nina Arden which sold cottons and ribbons. Below this was the Mount. It used to be a big tall place with a double porch. Ikin's garage was where the dentist is now. Back across the road to the 'Army yard' because there used to be a Salvation Army was there. There were two or three houses up the yard.
"
"I think I remember the police station just having been built. I believe Sergeant Morgan was there when the station opened because he showed my Father round and very proudly showed him the two cells.
"Jackson's shop, the boot shop. I can remember it being very new. We all thought it was extremely posh. It doesn't exactly fit in with Tarvin does it? Still it was all the rage in those days!"
"There was Mr. James Jackson and his son Reg and Mr. Joseph Jackson. I remember Mr James was large and rather portly and Mr. Joseph was tall and thin, so we always called them, amongst ourselves, Mr. Fat Jackson and Mr. Thin Jackson in an affectionate sort of way. There was an old stove in the middle of the shop- one of those stoves you used to stoke up with coke and such- going up to the ceiling and making things very nice and warm and it was a regular club for the village."
Anybody who wasn't doing anything else, old age pensioners, they would all come in and sit down while Mr Jackson was hammering away making clogs. He made me a pair when I was a small girl for going round the farmyard. Some of us would go in- Could you do this repair for me, Mr. Jackson? He would reply Well now, I'm busy past accommodating!"
To Be Continued.........