Continuing the articles based on the talk that Miss Radcliffe gave to Tarvin Civic Trust, she describes life in Tarvin at the start of the 20th Century: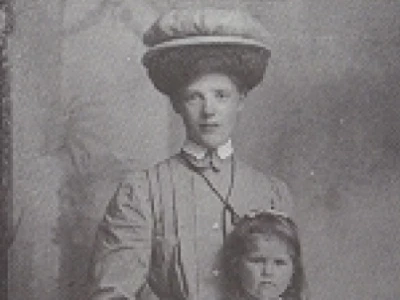 We now move back up to Church Street .
"There was Mrs. Webster who lived in the Church cottage and did washing. She was a beautiful laundress and she used to wash in the yard behind. She always had a sun bonnet on and was very wrinkled. All her hands were wrinkled with the hot water and the washing. Her face was wrinkled too, but she was a beautiful washer. I 've often wondered how on earth she dried the clothes, except in fine weather. She only had the yard behind but she took washing in from all sorts of people."
"Then there was the Rectory. It was the Rectory in those days, never the Vicarage. It was the Wilcoxon's that I remember. There were 2 Miss Wilcoxons, I hadn't realised there was a brother, but I notice from Mother's diary that she said my Father had gone to give young Wilcoxon a riding lesson. But I remember the 2 sisters and the Rector used to drive the pony and trap, one of those traps where 2 sit in front and 2 behind and they had a spotted dog, a Dalmation, which ran along behind."
"After the Rectory was the butcher, John Lloyd.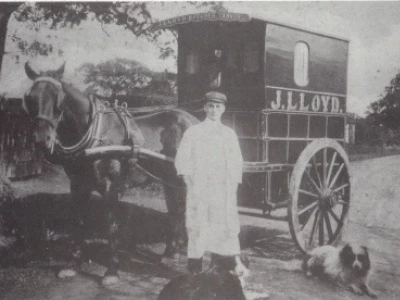 He was a big tall man and he looked even taller because in his butchering his thumb had been cut off and it looked as if he had a tremendously long arm. He cut it off himself slicing the meat in the shop. When it happened he ran up to the doctors, Dr Moreton, holding his thumb together and it was such a gory mess the doctor was nearly overcome!"
"His shop stuck out because the road was much narrower then than it is now in Church St. The slaughterhouse was right by the end of the houses. Quite an old-fashioned butcher's shop with a double door that you could open separately at the bottom and at the top, like a stable door. There was sawdust on the floor and all the meat hanging up around. Mr Lloyd used to walk round the shop slapping the different carcasses with his hands."
"Across the road in the Manor House was the Post Office. When I remember it, it was old Mr. Leach, Mr James Leach and his 2 daughters, Miss Lottie and Miss Alice. He had bushy black eyebrows and a stiff collar. It was Mr. Leach's signature on my birth certificate!"
"On one occasion we went to post a letter for somebody overseas, a missionary I think. I forget what the place was, but it was a rather unheard of place. What is the postage to there, Mr Leach? He looked at it and replied there isn't such a place. Miss Lottie would come in, let me look Father and she would be sure to get it right."
"The Misses Leach used to keep a very select shop above the Post Office and you could buy hats and such like in those days. The younger Miss Leach was a very elegant lady, with her hair all done up in fashion on a frame and then all fluffed out. The Post Office was really delightful in those days. It was a nice friendly concern. They had the telephone exchange there too. They had plenty of nice counters and two of you could be attended to at once, and there was a counter where you could write telegrams."
She continues that "we haven't had time to talk about the pool or the mill. It really was a pool in those days. A lovely mill pool with swans on it."
To Be Continued..............