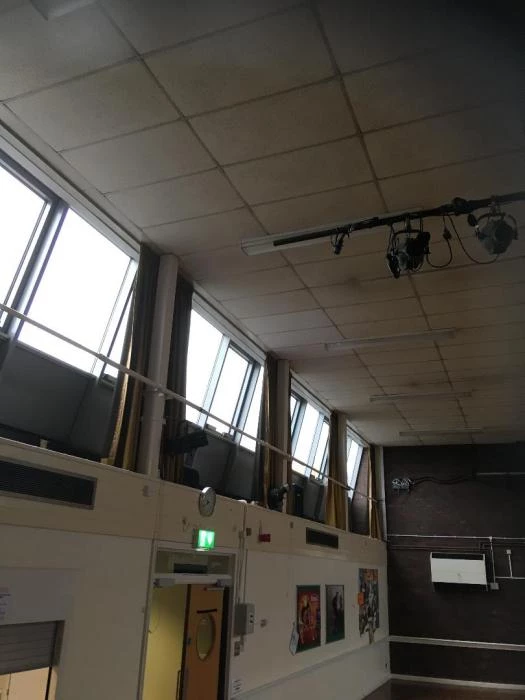 The plans for the renovations to the Hall have been finalised, companies chosen and contracts signed. Two major elements of the plans should be completed early in the New Year.
The planned work will involve the closure of the Main Hall on the week commencing Dec 17th. A small number of regular users have been informed and will either be finishing early for Christmas or moving to another room if applicable. However, the Hall WILL be open for the children's Christmas film on Friday Dec 21st. The Hall will also be closed for part of the week commencing Jan 7th, 2109.
Chairman Alan Wilkinson said "I have spoken to all the people who will be affected, and I am delighted that we have been able to work out a plan that minimises the disruption to them as far as possible. The December work will see the old, scruffy ceiling tiles removed and replaced with 460 bright, new, acoustic tiles. These will be interspersed with 42 lights set in 7 individually controlled bands of 6 lights, allowing for a much wider range of lighting levels to be created. The effect will certainly brighten the Hall and the new lights will be much more energy efficient."
In January the top curtains will be removed and electrically-controlled, blackout blinds will be installed. As well as looking much neater these blinds will also enhance the acoustic quality of the Hall. At the same time as this work is being done, new electrical cabling will be laid so that the improvements to the stage lighting can be carried out. This work will be done later by a local firm, CSP Audio Visual, whose work in events staging has left them with equipment deemed out of date in the commercial world, but which is more than suitable for the lighting demands the Community Centre. The spaghetti tangle of wires on the stage will be simplified and some work to make the high-level walkway safer will also take place.
Alan added "We are able to do this work despite not getting a grant because the support we get from the community has enabled us to build up a 'war-chest' of funds. That support and the careful and prudent management of our resources means that we can go ahead. Other plans – the complete refurbishment of the stage for example – may have to be paused, but with the continued backing of the community, there is no doubt that they will happen in the not too distant future".