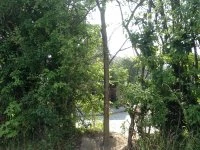 The Parish Council's chosen special project for 2020/21 is to formalise the gap in the hedge between the Ridgeway and the footpath along the A54. All of this work will require the agreement of Cheshire West and Chester Council.
A survey will be carried out concentrating on safety issues as it looks as though a safety barrier may need to be erected on the grass verge beside the main road as the proposed gate in the hedge will not be locked. It is also proposed to install a litter bin within that area.
Assuming Cheshire West and Chester Council agree, it is hoped that work can start once the current Covid-19-related restrictions have been lifted.