An article on the BBC (8th August) announced moves by Royal Mail to cut half its later collection times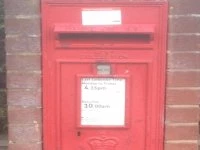 Collection times at almost half the Royal Mail's collection boxes will be brought forward to between 9am and 3pm.
Royal Mail says there will still be a late posting box within half a mile of areas affected and will add 2,000 post boxes to its 115,000 network. The earlier collections will be picked up by delivery staff as part of their existing rounds.
Royal Mail said many post boxes no longer cover their costs: "Rather than decommission uneconomic postboxes, while staying within the regulated density requirement, Royal Mail will ensure their viability by improving the efficiency of its collections arrangements."
Ed: "Post boxes in Tarvin already show the message in our photo right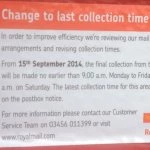 which is the post box in Heath Drive, last collection time will move to 9.00 am Monday to Friday and 7.00am Saturday from 15th September." Click on the photo on right to see the full detais.