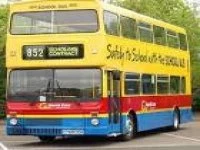 There will be a meeting about school transport for parents at Tarvin Primary School this Thursday at 15.30. Together with Mr Davies, Sarah Lee the Headteacher of Tarporley High School and Sixth Form College will be there with members of her senior team to consult with parents about ways in which they can support them.
We know there is a transitional fund to be made available by CW&C, but at present the schools are unable to get any information from the Cheshire West and Chester Council as to how much this will be.
Obviously, it's very important for parents to have clarity right now, as they will soon be making decisions about applications to a secondary school for their children.