Parents should make their views known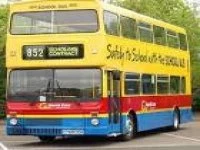 Cheshire West and Chester Council introduce the subject with the following:
"A number of changes are being proposed for the transport service offered by Cheshire West and Chester Council to schools and colleges. For the majority of children and young people eligible for transport from home to their educational
establishment, there will be no change. However the proposals that we are making would impact on some children and young people so we encourage you to take part in this consultation"
"The consultation runs from 30 October 2013 to 24 January 2014 and we want to hear what these proposals will mean to you and/or your communities.
Responses received during this period are very important and will allow the Cheshire West and Chester Executive to decide whether these changes should be introduced."
Having read the 2 documents that explain the proposed changes to the current school transport arrangements I would suggest that all parents make the time to go through them, consider how it might affect your children from September 2015 and them fill out the questionnaire.
The documents are available on Tarvinonline to read as below:
Summary Document of the changes- 2 pages and a good place to start!
Full Consultation Documenton the Proposed changes- 12 pages and a cup of coffee needed!
Having digested these documents you are then ready to tackle the questionnaire- 9 pages
You can fill out the questionnaire on line here, print out the finished document , keep a copy for yourself and post 1 copy off to CWaC.
or use the CWaC website link
Some Contentious Proposals?
Already we have received an email from one Tarvin parent about the 1st proposal regarding under 16 School Transport which states:-
"From September 2015, new or transferring pupils would not be eligible for free transport for their catchment school if there is another school that is nearer."
This raises the interesting question of the position of Christleton and Tarporley Schools.
I have done a simple AA route planner between Tarvin Primary and the 2 Secondary schools.
You guessed where this is going? Yes Christleton is nearer by 0.3 miles!
Would this mean that Tarvin children would have to pay to go on the bus to their catchment school of Tarporley ?
Do not miss out on making your views known- visit a 'drop-in event"?
At these events you will be able to share your opinions on the proposals and no doubt get some further clarification. Unfortunately the nearest events to Tarvin are probably Frodsham or Winsford but there is no free transport provided!