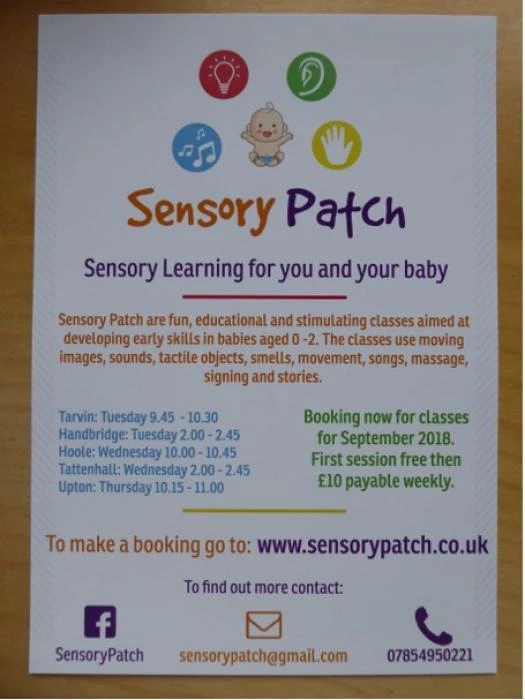 Sensory Patch are fun, educational and stimulating classes aimed at developing early cognitive, communication and social skills in babies aged 0 – 2.
The classes are themed weekly and involve moving images, tactile objects, sounds, smells, massage, signing, songs and stories. Parents/carers will learn the many benefits of sensory learning and how to adapt activities to promote the development of crucial skills in their little ones.
Multi-sensory learning is learning that involves 2 or more of the senses being stimulated within the same activity. As a teacher Sarah Patchitt has used this very successfully in schools as it encourages children to learn by investigating, exploring and discovering which ultimately leads to better understanding. Having seen how it promotes the development of a range of skills in children of all ages and abilities Sarah was keen to develop sensory learning for babies and younger children.
The classes planned will be fun, educational and stimulating, focussing on such themes as under the sea, on the farm and outer space.
The classes will take place at Tarvin Community Centre each Tuesday at 9.45 – 10.30 starting on September 11th. The first session is free and then £10 payable weekly.
Sarah's knowledge and expertise has been gained whilst working as a teacher for 29 years in early years, primary and special schools.She is also a qualified teacher of the deaf and will include some basic signing for babies within the classes. The sessions are suitable for all babies whatever their ability or physical needs.
To find out more, or book a class, go to Sarah's website at www.sensorypatch.co.uk, visit her Facebook page 'sensorypatch' or message her at sensorypatch@gmail.com