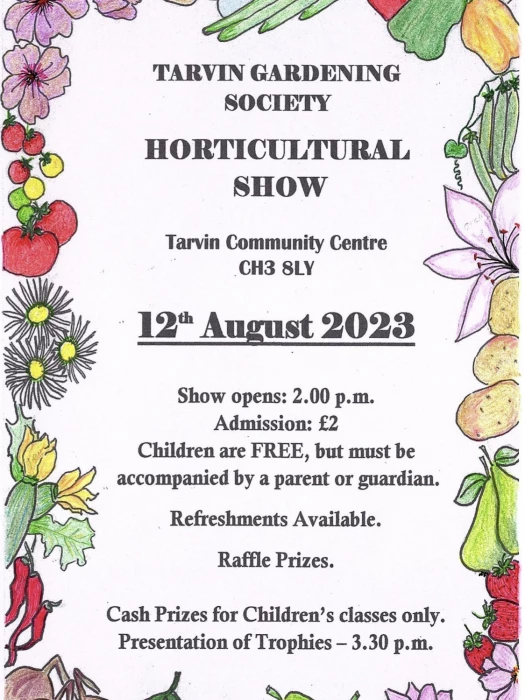 Showing off Tarvin's green credentials(and lots of other vegetables, too!)
We are now just under a fortnight away from the annual Tarvin Horticultural Show (or "Gardens' Show", as it might better be named, because everyone with a garden has a chance of having their some of their flowers, fruit or vegetables judged as being "the best"!.) Each year, there is the opportunity for everyone to join in the fun and see who has the longest runner bean, the heaviest marrow or the wonkiest vegetable. The show isn't limited to members of the Gardening Society – everyone can join in and it is COMPLETELY FREE TO ENTER.
With just two weeks to go, now is the time to have a walk around your estate, plot or back yard to see whether you might have award-winning hydrangeas, dahlias, roses or gladioli, whether your fuchsias or geraniums are looking promising, if your marigolds or sweet peas are developing nicely, how well your hanging basket is looking or whether your cactus is likely to beat all comers! For those less-disposed towards flowers, there will be classes for your fruit and rhubarb, a wide range of vegetables and the "From the Pantry" section for the folk who make jams, chutneys and cakes (including the famous 'Tarvin Bun Loaf). Flower arrangers of all abilities and ages are well-catered for and there is a Children'sClass that includes a Lego garden and a 'Veggiesaurus', which can be whatever the imagination can produce!
The show is on Saturday, 12th August 2023. Schedules can be downloaded from the TarvinOnLine article on 14th May 2023 and paper copies are available from Tarvin Post Office. There is no limit to the number of entries a person may make but each entrant must have their own entry form. Forms may be printed or copied as often as needed. All of the completed forms must reach the Show Secretary, Ian Levitt by 5pm on Friday, 11th August. They can be delivered to his home at 2, Field Close, Tarvin, CH3 8DL or they can be emailed to tgs.show.2023@btinternet.com.
Ed:  Look at TarvinOnLine for 14th May 2023 for -
* the full show schedule,
* the entry form and
* a page of really helpful hints for showing!