At the Community Centre Committee meeting last night – April 1st – the new 25 year lease was finally signed!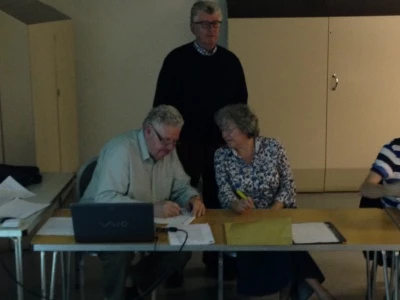 Though there are still a few, minor routine procedures to be completed, the future of the Community Centre has been secured until 2039. The lease was signed by Alan Wilkinson, Chairman, Jane Lush , Secretary and Ted Lush, Treasurer on behalf of the Committee, members of which are collectively Trustees of the Community Centre registered charity.
The document is long, complex and formal but it does define the responsibilities of both CW&C as a Landlord and the Community Centre as Tenants. To ensure that these conditions were fair and reasonable the Committee employed a solicitor, but much credit for the final document must go to Jane Lush, with her forensic attention to detail, and Roy Brereton, whose long experience as a local Chartered Surveyor proved invaluable.
Alan Wilkinson, Chairman of the Community Centre Committee said "When we started this process 18 months ago, I envisaged that it would be very straightforward and I have been amazed at how long the journey has been. We wanted to ensure that we left any future Community Centre Committee with a workable system that would be robust enough to last. I am satisfied that we have achieved that and that the future is looking good. "
With a new lease in place the Committee is able to start looking for grant funding for an ambitious programme of improvements. To help persuade funding bodies to support the Community Centre, a brief survey will be distributed soon to every household in the village. This will give an up-to-date picture of how the Community Centre fits into the village scene. When it arrives through your letter box, please do complete it.
Many people have been responsible for making the Community Centre a success in recent years and to thank them, a small celebration will be held in the Community Centre on May 6th just before the Annual General Meeting.