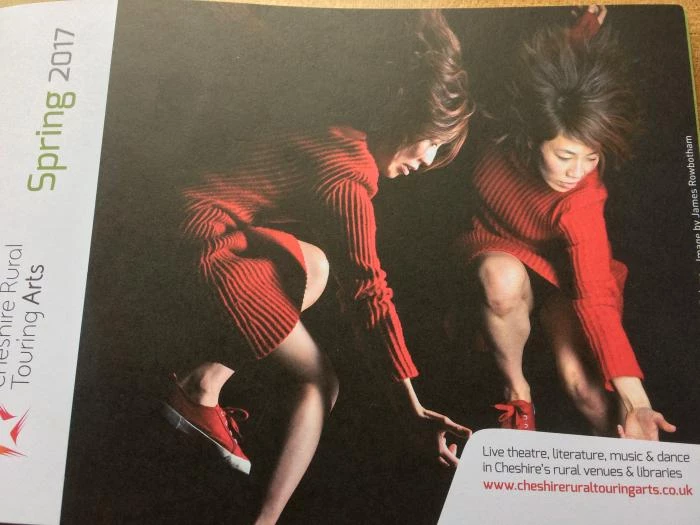 The new Cheshire Rural Touring Arts Spring 2017 brochure is now in the foyer of the Community Centre for anyone to collect so please do pick up a copy when you are next passing through. It contains details of all the shows that are happening throughout Cheshire up until June.
The two shows which are coming to Tarvin are:
Sammy and the Snow Leopard on Saturday April 22nd at 4.00 pm and is suitable for the over 4/5's.
Lightning under their Skirts on Friday May 26th at 7.30 pm and is suitable for all those who lived through the early 1960's or who have long wondered what all the fuss was about!
Tickets for both these shows are available online at www.ticketsource.co.uk/cheshireruraltouringarts and will be available at the Post office nearer the date.
The spring programme caters for all tastes and ages. There is modern dance at St Mary's Centre in Chester and Indian dance in Tattenhall. There is a multi-talented guitar trio appearing in Mollington and a brilliant guitar duo coming to Kelsall. If you are one of those who thrilled to the play about British cyclist Beryl Burton, then a play about the bitter battle between Lance Armstong and Marco Pantani on the gruelling Ventoux Mountain during the Tour De France may well entice you to The Lion Salt Works in Northwich.
All the performances are by professional theatre companies though it is fair to say that these will usually be small theatre companies. Adept at the world of rural touring they bring their theatrical illusions in the backs of small vans and cars and create and dismantle their magic in a couple of hours. Because the performances are subsidised, the cost to promoters is modest and this is reflected in the ticket prices. Some Halls are licenced like Tarvin, others encourage a BYO policy and some even include a meal.
For full details go to www.cheshireruraltouringarts.co.uk or call Tarvin's own promoter on 01829 741962