Parish painters impress.
I have to admit I have not previously been to St Andrew's Painters' Annual Exhibition. So,I didn't know what to expect when Gill Chaplin and colleagues warmly greeted me at the entrance to the Parish Rooms on Saturday. I was not disappointed.
The group of 15 local artists meets every Tuesday morning at the Parish Rooms and work on their own pieces of artwork or contribute to collective pieces. They also run workshops with visiting artists to expand the range of skills and techniques. Given the eclectic mix of wonderful art that has come from the group over the year the meetings clearly provide inspiration.
On display at the exhibition were a range of techniques and media from still life in oil to landscapes in collage and everything in between. It was particularly difficult for me to select some for the website.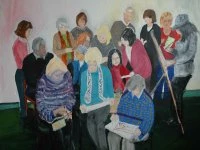 I chose a collective self-portrait of the group and a collage of a scene many of you will recognise.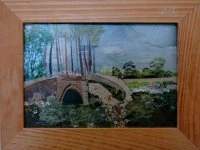 If you were not able to go to the show there are two wall-mounted images permanently on show in the Parish Room which were designed and produced by the Club members.
Look out for next year's exhibition. For more information on the group go to their entry in our Directory