Our last meeting of the Women's Group year was an Afternoon Tea at theBluebell Cafe, Barrowmore.
The sun shone and the afternoon tea was delicious thanks to Leonie and her staff. It was a first visit for many of our members and from the glowing comments I feel sure it won't be their last.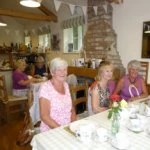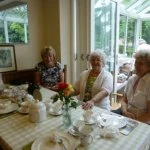 There will be no meeting in August but we start back on Wednesday 3rd September with our AGM followed by a return visit of Ken Walker who will be once again entertaining us with his wide variety of songs.
You do not have to belong to St Andrew's to come to our meetings, and for £2.00 which includes Tea/Coffee and biscuits, it makes a really varied, interesting and friendly evening.