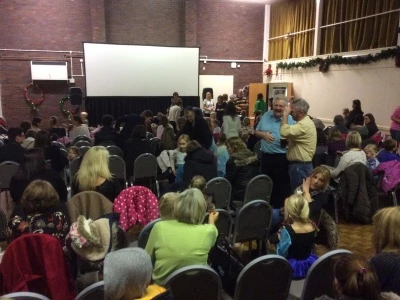 Dozens of little Elsa lookalikes, and a sprinkling of Annas, made their way to the Community Centre last night (Friday 19th Dec) for the much anticipated showing of Frozen, the Sing-A-Long Version. It was the end of term and the end of an already exciting day, but the excitement was growing. Fortunately most of parents had heeded the message to buy tickets in advance and with some returns on the door there were just enough for the few who came without. No-one was turned away.
The official headcount was 105 children and 91 adults most of whom made good use of the refreshment table and the bar. They then settled down – well most of them did – to enjoy what has become the biggest grossing animated Disney film yet. The younger children on the mats at the front made an excellent choir and sung with gusto. This was easily the most successful Family Film Night in the Community Centre.
But below the fun in the Main Hall, a problem was lurking. At the beginning of the evening a parent reported that there seemed to be water backing up a drain in the Gents loo. By a stroke of good fortune, Alan Wilkinson was on duty and he did what every good and well-prepared Chairman would do under those circumstances. He went home and got his rubber gloves and his drain rods. Think about that for a moment – he went home and got his drain rods!
There is a drain cover in the storeroom on the left of the Hall door and when Alan lifted this he found......well let's just say it smelled as bad as it looked! But some nifty work with the rods achieved a reasonable degree of flow and the problem was contained, though there was a lingering, unpleasant smell in the foyers for a time. Thank goodness for sweet smelling disinfectant!
As anyone knows who comes to Family Film Night, the trek of small people to the loos is constant and the conclusion is that the sudden heavy use caused a blockage somewhere in the system. Thankfully it has cleared by this morning (Sat) but it will be checked out next week.
The Community Centre Committee would like to thanks all the parents and children who came along and had such a great time. A Very Merry Christmas to you all and we hope to see you on Jan 30th for the Penguins of Madagascar.