Residents and Parish Councillors celebrate the arrival of fibre broadband in Tarvin!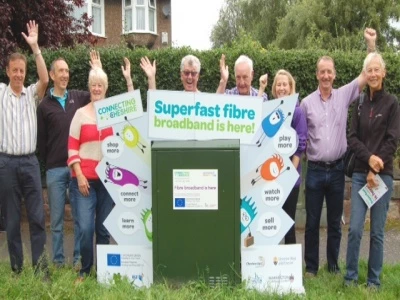 The £28.5m Connecting Cheshire Partnership has announced that its new fibre-optic network – bringing speeds of up to 80 megabits per second (Mbps) – is now becoming available from the Tarvin telephone exchange as part of its roll-out to more than 80,000 homes and businesses across Cheshire.
It is not just about a faster internet experience or doing one thing quicker, it is about everyone being able to do their own thing online, all at the same time.
You can work or play – smarter, faster, better, whether from your smartphone, tablet or computer.
Check the Connecting Cheshire website to see if your home or business can be upgraded and then contact your Internet Service Provider or shop around for the best deal and order a fibre broadband service – it doesn't happen automatically!
Click here

Connecting Cheshire, a partnership between BT and Cheshire West and Chester, Cheshire East, Halton and Warrington Councils, aims to reach 80,000 homes and businesses with fibre broadband. This is in addition to BT's commercial investment in fibre across Cheshire, Halton and Warrington so that by the end of 2015 a total of 400,000 premises (around 96%) will have access to high-speed broadband.
Andrew Arditti
Connecting Cheshire Partnership
Digital Engagement Manager