Following on from Tarporley High School's excellent A Level results last week, Tarporley's Year 11 students have once again achieved outstanding grades with 77% of students achieving the important measure of 5 A*-C including English and Maths GCSE.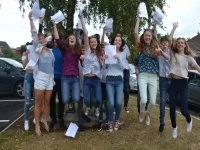 The class of 2015 sustained the tradition of impressive results, especially in English and Maths with over 80% of students achieving A*-C in these subjects.
Special congratulations go to:
Annabel Ankers 1A* 9A 1B
Eilidh Bodfish 12A*
Chris Bright 5A* 5A 1B
Zakary Buras-Stubbs 10A* 2A
Sophie Clayton 3A* 7A
Poppi Dickens 2A* 8A 1B
Hannah Howell 5A* 4A 1B
Rhys Kelly 1A* 8A 1B
Ella Lucas 8A* 1A 1C
Lucy O'Neill 2A* 10A
Rachel Overy 5A* 5A 2B
Alex Palmer 3A* 7A 1B
Oliver Robinson 3A* 6A 2B
Sarah Stearne 11A*
Olivia Towers 3A* 6A 2B
James White 1A* 8A 1B 1C

Deputy Head Teacher Liam Martin said "I would like to take this opportunity to congratulate all our students who have demonstrated outstanding commitment and to thank their families for all the support they have given over the last five years. I would also like to offer my thanks to our dedicated staff who have worked incredibly hard to enable all of our students to achieve.
As an outstanding school, we are extremely proud that every single student has passed in excess of 5 GCSEs, enabling all to progress either to A Level study here at our Sixth Form College, or to pursue their chosen college and training courses."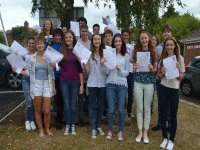 GCSE Group photo shows from left:
Lillie Hall,Eilidh Bodfish, Frances Munro, Zakary Buras-Stubbs ,Hannah Howell, Lucy O'Neill, Ben Steward, Ross Wild, George Dixon ,Emily McLaughlin,Chris Bright, Roselle Smeatham, Sam Livera, Rachel Overy, Michael Beaumont, Alex Palmer and Poppi Dickens
Tarporley Sixth Form is open to all students with suitable GCSE grades. There are some places available for the new academic year, including students who have not previously attended the school. If you would like any further information please contact via email: teverton@tarporleyhigh.co.uk