'Outstanding' Tarporley High Students on BBC Radio 4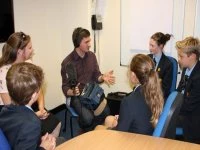 On July 18th 2014, a BBC Radio 4 producer paid a visit to Mrs Stych and her Year 8 English lesson at Tarporley High School as part of a recording for a new series called The Educators.
The photo shows shows clockwise from left:
Tom Adkins from Tarporley Tara Stych, English Teacher, Producer Joel Moors from BBC Radio 4, Daisy King from Kelsall, Rueben Hewish from Bunbury and Annabelle Jones from Delamere.
As Tarporley High School students have represented the school so well on BBC School Report in the past, the school, recently rated Outstanding by Ofsted, was recommended to Radio 4 by the head of BBC School Report in the UK, quite an accolade for the students.
Presented by Sarah Montague, The Educators sees the BBC Radio 4 presenter interview different figures in Education every week. So far the series has included Ken Robinson, John Hattie and Tony Little (Head of Eton) and there are more episodes to follow.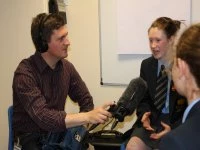 On Wednesday 3rd September at 4pm the fourth episode aired and featured Daisy Christodoulou who argues that students are not receiving enough fact based teaching.
On this programme, Tarporley High School students were featured in their English lesson and also on interview as they were asked their own opinions on their learning styles to illustrate that there are two sides to Christodoulou's theories.
The students concerned, now in Year 9, said "It was so exciting to have a BBC Radio 4 producer recording our English lesson on Anne Frank. After the lesson we were then asked our opinions on which learning styles suited us best, fact-based learning or skills-based learning."
Tara Stych, whose English lesson was filmed, noted "We were so delighted when the BBC approached us to record this programme. I planned a lesson that deliberately incorporated both facts and skills and it was excellent to see that our students were so articulate and passionate when interviewed about their learning preferences."
The episode is still available to listen to via BBC iplayer on catch up.
(Ed. as ever click on photos to enlarge them)