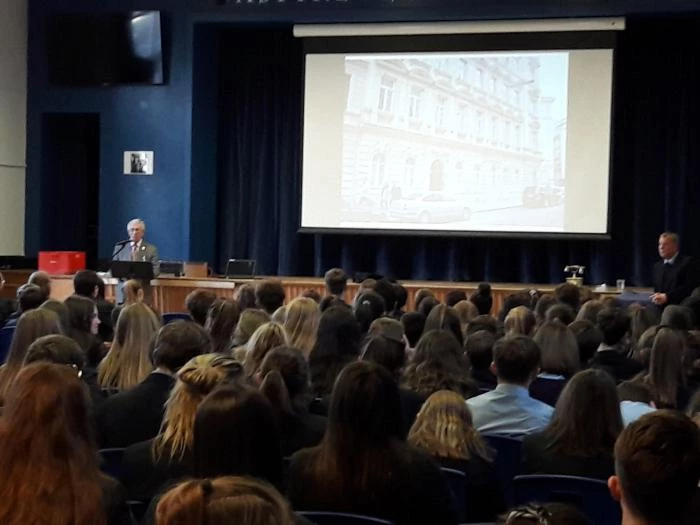 On Thursday 1st February Year 9 students from Tarporley High School & Sixth Form College heard a testimony from Holocaust survivor, Ernest Simon, as part of a visit organised by the Holocaust Educational Trust (HET).
Ernest Simon story. Ernest was born in May 1930 in Eisenstadt, Austria. Following the Anschluss in March 1938, Ernest and his family moved from Eisenstadt to Vienna, where they settled in a small flat in the Jewish quarter. As soon as they moved, Ernest's father began making desperate efforts for the family to leave the country. On 9th November 1938, Ernest witnessed Kristallnacht and could see prayer books and Torah scrolls being burnt at the Synagogue at the end of his road through his bedroom window. Following Kristallnacht, Ernest's parents were finally able to secure a place for him on the Kindertransport. He left Vienna on 11th January 1939. Ernest's younger brother remained in Austria with his parents and a month later they were able to travel to the UK on domestic permits. Ernest was living with a Jewish family in Leeds at the time and his parents worked and lived just outside of Leeds. His brother lived with foster parents nearby.
At the outbreak of the Second World War, Ernest was sent to Lincolnshire, where he lived with a foster family in a small village. No German was spoken in the village and as Ernest's English improved his German deteriorated. His mother was so upset that he no longer spoke German that she insisted he return to Leeds to be close to his family. Soon after he returned, his father was arrested and interned for 12 months on the Isle of Man as an 'Enemy Alien'. On his release in 1942, the family moved into a small house and were able to live together as a family for the first time since leaving Austria.
Ernest went on to study Economics at Leeds University and now lives in London. He continues to speak about his and his family's experiences during the Second World War.
The testimony was followed by a question and answer session that enabled students to better understand the nature of the Holocaust and to explore its lessons in more depth. The visit is part of the Holocaust Educational Trust's extensive all year round Outreach Programme, which is available to schools across the UK.
Headteacher, Jason Lowe, at Tarporley High School & Sixth Form College, said: "It is a privilege for us to welcome Ernest Simon to our school and his testimony will remain a powerful reminder of the horrors so many experienced. We are grateful to the Holocaust Educational Trust for co-coordinating the visit and we hope that by hearing Ernest's testimony, it will encourage our students to learn from the lessons of the Holocaust and make a positive difference in their own lives."
For more information about the Holocaust Educational Trust please visit www.het.org.uk
T